Shopping and Eating and Drinking, ...not necessarily in that order. Along 5th you'll find a small pizza restaurant called Las Mananitas. You'll have a good time, good food, and you can also try La Vagabunda on the north end of 5th with the same ownership for breakfasts.
Nothing beats drinks and a pizza after a day at the beach. Sit at a table and people watch on 5th. The chips and pico are good and fresh. The marqs a bit on the sour side. Ask for the hot sauce...
Craving a USA style hamburger? A block south of Carlos & Charlies in the Paseo del Carmen shopping center at the south end of 5th is the Johnny Rockets yuppie hamburger joint for authentic sock hop malts, fries, and burgers.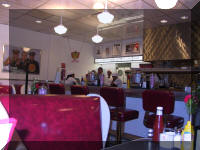 In the morning 5th is deserted but it still is fun to sit along the street and have breakfast. The former "Tulips" is on the north end near Constitution and they have had breakfast specials and great coffee. The breakfast buffet is now about 85 pesos and it wasn't too long ago we were paying 45 pesos. It is still a good way to start the day.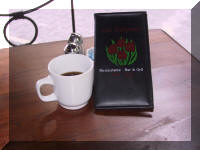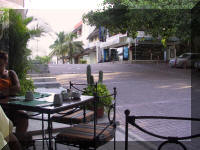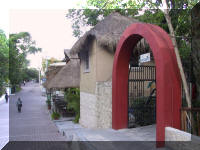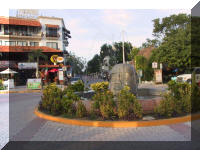 Au Cacao (5th & Constituyentes)
Veronica's is in this area if you need a massage.
The pictures below were taken in 2006. They will enlarge to a size greater than can be viewed on one screen. Most of them are taken along 5th.
*********************************************************
The Tequila Barrel is a great meeting place and watering hole and sports bar. The End Zone is another.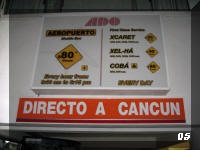 The ADO bus terminal on 5th and Juarez. The bus station on 20th is for the long distance buses going to Merida and Belize, etc.
La Parrila on 8 Norte diagonally across from the Burger King (this is where the TGI Friday's used to be).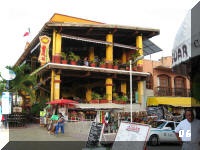 Jungla Caribe Hotel right on 5th across the street from the Lunata.
Blue Parrot Hotel next to that great pizza place.
4 Norte by Roger's Boots looking toward the beach.
Hacienda Maya Restaurant.
Blue Parrot on the beach.
1 Sur down near the ferry pier. You can see the end of 5th by Carlos & Charlie's (right) and the famous churros stand by the plaza.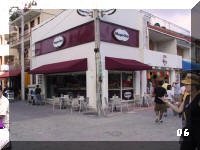 They now have 3 of these ice cream shops in PDC and have moved our old favorite coffee shop Java Joe's to a new location about a block away just off 5th.
When you return to civilization you need not have the cravings for fast food. Stop in at your favorite while in Playa del Carmen. Two locations for Burger King in town. Even a Starbucks and a Dairy Queen on 5th.
Last update was on 10/16/2016
email: message@thatec.com

Panoramas of the Playa del Carmen area. These files will take an extended time to load because they are over one megabyte in size. The pictures below are prior to 2005.
Most pictures are in downtown Playa del Carmen. Beach is north end looking south by the Gran Porto Real.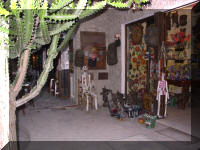 In 2003 the repairs and repave of 5th was taking place. Several other streets also got a facelift but the tourist activity went on without interruption.