South
Playa Del Carmen Mexico
---

Photos below are from October 2007
The area south of the ferry pier is generally thought of as a separate area called Playacar. It is a gated area with quite a few houses, condos, a golf course, aviary, and about a dozen large resorts with beach access restricted. Right at the pier is Sr Frog's which is a popular party hangout with adequate drinks and lots of fried foods and nothing out of the ordinary.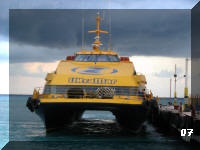 The large turbine powered cats are a hoot to take over to Cozumel and have a very convenient and frequent schedule. Standing on the pier you can peer towards Playacar and the Playacar Palace and a couple of condo buildings with rentals. Beaches in this area are not popular due to their lack of sandy areas and the frequent jet skis. Walking south is limited not only by the ocean but due to seawalls.
Pictures below are from 2008. Nothing has changed at the Playacar Palace....still no beach.
And in 2009 (Below) there is still no beach at the Playacar Palace and also next door at the Xaman-Ha condos.
Last update was on 01/27/2013
email: message@thatec.com