North
Playa Del Carmen Mexico
---
Photos are from October 2007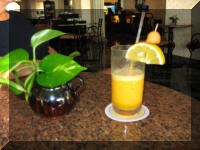 Mango margaritas seem to work out well...even with breakfast.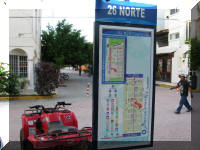 The north area starts by the Royal Playa del Carmen on Constituyentes. Walking up 5th you can check out the street maps to get your bearings. Just off 5th is a Spanish/English school (PlayaLingua) near the Mariposa hotel.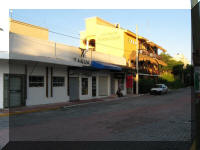 For breakfast try the la Vagabunda across the street from the Hotel Mariposa. They are looking at remodeling in 2009.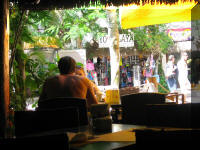 The Real resort is on 5th about 3 blocks off the beach north about as far as Las Palapas. It is the economy resort of the 3 resorts of the Real group in Playa del Carmen. The beaches north of the Real's Royal PDC pier are wide and the water is shallow and perfect for swimming or floating.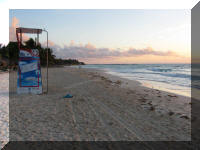 Sunrises are spectacular and there is always a jogger or two enjoying the cool of the morning. Sometimes a lone swimmer enkoys the warm waters.
The condos are building in the area next to the Royal PDC and soon will tower over Mamitas and the Kool beach clubs.
Across the street from the internet cafe on 5th and 20th Norte is the Sr Frog merchandise store. There is another store in the central zone of 5th also.
Las Deliscias is nearby.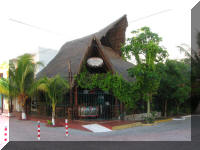 Road sign map on Constituyentes between the Royal Playa del Carmen and the Gran Porto Real.
The beach (Below) at the Royal Playa del Carmen looks just as pristine in 2010 as it did the last few years.
Last update was on 11/27/2010
email: message@thatec.com