United Kingdom, London
Although many museums and areas of historical significance are in the greater London area, it is fun also to see some of the contemporary sights. Upon every turn one seems to discover interesting sights amongst the wandering streets.
Even while wandering in the government buildings one can find sights such as the Churchill War Room; the entrance to which is, in appearance, a sandbagged bunker. Just a short distance away is the Red Lion pub where you will find classic cuisine and furnishings.
Don't forget the waterfront area of the Thames. The "Eye" dominates the area in front of the aquarium (across from Big Ben). Each car holds multiples of people and the cars rotate slowly around affording an exhilarating view of downtown London. Water taxi's and dinner boats cruise the length of the Thames and furnish an inexpensive and unusual view of the big city. Take the water taxi all the way to Greenwich for another pleasant day in the parks, Maritime museum, and birthplace of the "ZULU" time standard.
Big Ben and the parliament building can look completely different depending on the time of day. Always drawing crowds of tourists, the clock tower is the centerpiece of the government area along the Thames.
Tours of Westminster cathedral are a great way to beat the heat of the warm afternoons. Outside is a super refreshment stand to try a "hot dog" London style.

Churchill's War Room
Red Lion Pub near parliament and government centers

The Eye of London

Piccadilly Circus

Views of Big Ben
And you can not forget the Hard Rock cafe. London was the site of the first Hard Rock Cafe restaurant in what is now a world wide chain.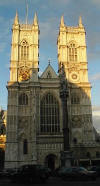 Westminster Cathedral