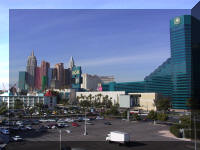 Where ever you stay you will find that you do a lot of walking. It is just great fun cruising through the theme hotels and doing some people watching. Good food and drink is everywhere. NYNY has variety and the MGM has unbelievable scale to everything.
The skies are cloudless or maybe hazy. Hot sun is great for laying around by a pool (hard to find when the hotels want you in the casino).
Soon you will be orienting yourself with a glance for the Stratosphere (towards downtown) knowing that the airport is at the other end of the "strip". Between downtown and the airport the hotels come and go, shrink and swell from year to year as they all strive to collect the dollar from the conventioneer, tourist, or any warm body they can find.
Take at least one day and rent a car. Get out of town and look around if only to look back on Las Vegas from a dusty ridge. It is unforgettable. If you are adventuresome go for the helicopter tour.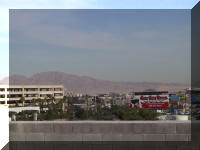 Outside NYNY they have their miniature harbor complete with fireboat. It is perhaps the only one in the desert of Nevada.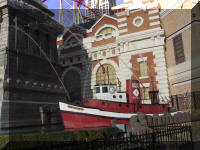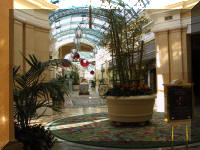 New or old hotels provide an exotic adventure. A touch of France ....a little Italy .... a slot machine always close by.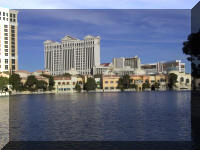 Specialty stores pump Harley-Davidson, pedal parrot heads from Margaritaville, M&M's, and an occasional fast food rendezvous.