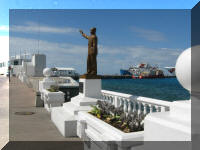 Internet is available within a block or two at 10 Av Sur & D Adolfo Rosado Salas. One US dollar for an hour; minimum one hour. That sure beats $24 an hour on the boat and it is much faster also.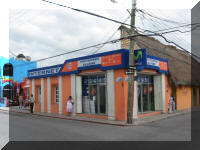 Rent a scooter to get around the island if you are a thrill seeker. It helps to have deep pockets also because if anything happens it will cost you big time. In 2003 it added $150 to the daily rental cost for a couple of scratches caused when it fell over. Caveat Emptor!

A slightly less risky rental are the dune buggy types. Seat 4 in sunny comfort but don't get heroic with them. They don't like them off roading into the mangroves.
South beach. If you go around to the east the waves build up and there are more rocks. A few restaurants are scattered along the beach. They're great for an impromptu beach party.

At the main pier for the ferry from Playa del Carmen you can see the Hard Rock Cafe...so it makes sense if you eat on the 2nd floor of the Hard Rock you overlook the pier and can watch the sunset and the coming of the tourists. Over at the cruise ship docks you can hang out and watch all the activity. They get really busy especially when about to depart or shortly after arrival. Did you know that many of the tourist stores are really owned by the cruise ship companies?
The ferry pier is now undergoing renovation (2008-2009)and will be a double decker (back of above photo). Stores are expanding too. Sr Frog's, Carlos & Charlies, Margaritaville, plus T-shirt shops everywhere. Watch for coupons for free appetizers like the calamari (below) at Margaritaville. Hard Rock offers a free drink with an entree.
Yes, the cruise ships have their own docks and pull right up to the island to unload their sun seeking inhabitants.
The beaches to the north of the main docks are more traditional. They are a great place to get away from the crush of tourists.