Bejiing - China
Hard Rock Cafe
Traffic in Bejiing appeared to be almost chaotic. The were lots of bicycles that were more of a hazard to pedestrians than the taxis, cars, and trucks.
Just down the street from the hotel was a 6 story shopping center. Not quite the Mall of America but very large just the same. It was active with shoppers and the shops were upscale.
On the lower level of the shopping center was a familiar coffee shop, a grocery store and shops for all the little incidentals one forgets to pack for the trip.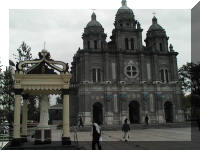 The Catholic Church in downtown Bejiing was right next to the hotel. I had heard there were 14 total churches in Bejiing.
I stayed at the Tianlun Dynasty Hotel. Its style resembled an Embassy Suites with the open atrium and amenities. It was a real treat to stay there as the service was excellent and the internet connection was the fastest hotel interface I have had in the world.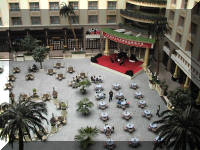 Honorable 5 Star Hotel